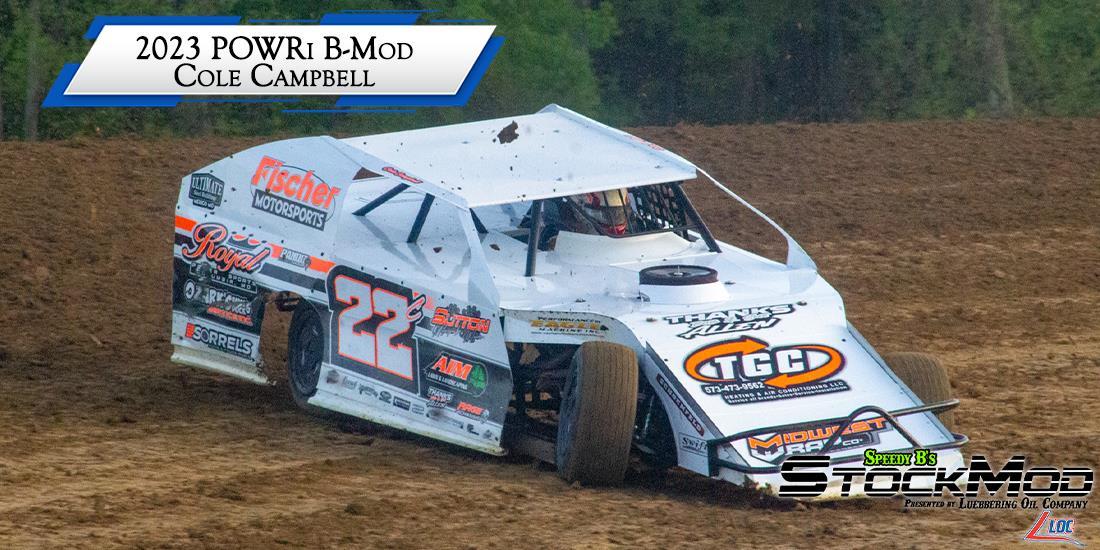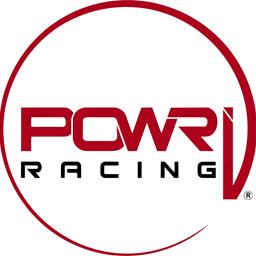 ---
Cole Campbell Clinches Championship in American Powder Coating POWRi B-Mod Division
Belleville, IL. (10/12/23) Declaring a statement of speed and consistency throughout the inaugural campaign of a National Championship quest would witness the American Powder Coating POWRi B-Mod Division crown the accomplishments of Cole Campbell as the first driver to attain the yearly title in the always exciting and constantly emergent division.
Obtaining the inaugural yearly title of the POWRi B-Mods through a run of twelve wins and consistency on the year, Cole Campbell of Mexico Missouri would capture the championship by engaging inside the top five in all but a trio of his twenty-nine seasonal starts as well as placements inside the top ten in twenty-seven driving displays.
Capturing the title over a determined field of top-notch drivers, Campbell would hold honors in the yearly standings by eighty points over twelve-time feature winner Jerry Morgan of Fort Scott Kansas as Hermitage Missouri's Bobby Williams completed the B-Mod division yearly podium placements with nine season victories.
Remaining within the chase for a championship throughout the upstart divisional campaign would find four-time feature winner Derek Watson of Bolivar Missouri and six-time feature winner Terry Shultz of Sedalia Missouri completing the top five with James Thompson, Jackie Dalton, Jordan Martin, Adam Hall, and Chris Spalding finalizing the top ten in the 2023 POWRi B-Mod Division National Standings.
Championship Banquet information for the 2023 POWRi Seasons as well as the full 2024 Schedules are currently being finalized and will be released in the upcoming weeks. The final American Powder Coating POWRi B-Mod Divisional Points Season Standing is available at https://www.powristockmod.com/standings/regions/2023/22388 under the B-Mod divisional tab.
Only confirmed POWRi-sanctioned events will be eligible for National Points. The schedule is subject to alterations and cancelations, future updates will be posted as confirmed. Rules and guidelines are available online at https://www.powristockmod.com/downloads/get.aspx?i=809945.
The full yearly increasing point fund for the American Powder Coating POWRi B-Mod Division can be found at https://www.powristockmod.com/downloads/get.aspx?i=809964. Mandatory membership is required for all drivers in all divisions participating at POWRi Sanctioned tracks. A breakdown of the POWRi Points System can be found online at https://www.powristockmod.com/downloads/get.aspx?i=809961.
For a tour of the facility or a no-obligation quote swing by American Powder Coating today at 507 Hwy 42 Osage Beach Missouri (behind American Sun Control) or phone at (573)348-4200.
LOC Fuel Advantage Program – "The Fueling Partner of POWRi StockMod" – If 55 Gallons of race fuel is purchased at participating LOC facilities, the customer receives one FREE pit pass to any POWRi StockMod event in 2023.
Luebbering Oil Company – "POWRi StockMod Presenting Sponsor" – A wholesale fuel distributor servicing commercial and residential customers locally and throughout the Midwest. From home heating oil to lubricating oils to industrial operations or repair shops, LOC will have any fuel needs covered | www.luebberingoilcompany.com.
Speedy B's Convenience – "POWRi StockMod Title Sponsor" – Offering a top-notch line of clean, fast, friendly, and local convenience stores in Speedy B's; with five locations including New Bloomfield, St Thomas, two facilities in Jefferson City and the Holts Summit location that supplies 110-grade fuel.
Superior Steering Wheels & Graphics – "The Official Steering Wheel of POWRi StockMod" – Family owned and operated, everything is made by hand and custom-built one at a time to ensure great quality with a concentration on amazing customer service and top-notch quality products whether it's a steering wheel, a decal, or a banner | www.superiorsteeringwheel.com.
Follow along for more information such as race recaps, updates, full results, and press releases online at the newly launched www.powristockmod.com, and on Facebook at POWRi StockMod.
Photo Credit: AJ Hassler Photography
---
Submitted By: Cassy Staley
Back to News