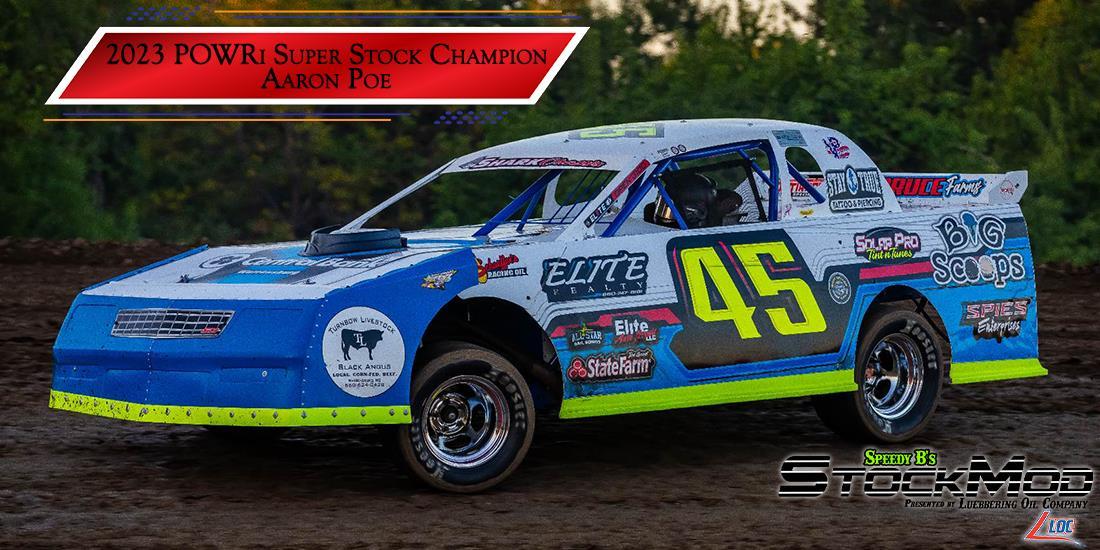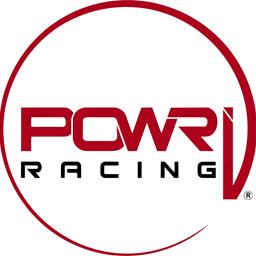 ---
Aaron Poe Attains Third-Straight POWRi Super Stock National Championship
Belleville, IL. (10/11/23) Preserving a late-season surge of points combined with the dramatics of a must-win scenario in the National championship chase, the Superior Steering Wheels POWRi Super Stock Division would not disappoint as Aaron Poe would defend his throne to claim his third straight divisional title.
Supporting the B&G Scoops, Spies Enterprises, Central Bank of Warrensburg, Solar Pro Tint 'n Tunes, Elite Realty, All-Star Bail Bonds, Joe Good State Farm, Elite Auto Repair, Stay True Tattoo & Piercings, Sadie's Spirits & Tobacco, Liter's VP, Dirt Track Specialist, Bruce Farms, Honor Detailing, Elite Signs Plus and Superior Steering Wheels #45, three-time clinching champion Aaron Poe of Knob Noster Missouri would add thirteen yearly wins to his divisional leading thirty-seven career feature victories.
Obtaining the third yearly title of the POWRi Super Stocks through a stretch of thirty-five top-notch starts of thirty-three top-five finishes with thirteen feature wins on the year, Aaron Poe would seize the championship title by winning the final event of the season in Championship Night of the Inaugural Andy Zeller Memorial POWRi StockMod Nationals.
Fashioning a theatrical late-season push for points, Poe would capture praises in the yearly standings by a mere ten points ahead of thirteen-time feature winner and Tebbetts Missouri talent Ted Welschmeyer as Micheal Muskrat of Stillwell Oklahoma would win six events while completing the yearly divisional podium placements.
Remaining steadfast within the championship standings throughout the highly competitive divisional campaign would find four-time victor Blaine Ewing of Green Ridge Missouri and five-time winner James Nighswonger of Osawatomie Kansas completing the top five with Devin Irvin, Dustin Beisley, Mark Davis, Chris Kircher, and Jared Lamke concluding the top ten in the 2023 POWRi Super Stock Division National Standings.
Championship Banquet information for the 2023 POWRi Seasons as well as the full 2024 Schedules are currently being finalized and will be released in the upcoming weeks. Final
Superior Steering POWRi Super Stock Divisional Points Season Standing are available at https://www.powristockmod.com/standings/regions/2023/22388 under the Super Stock divisional tab.
Only confirmed POWRi-sanctioned events will be eligible for National Points. The schedule is subject to alterations and cancelations, future updates will be posted as confirmed. Rules and guidelines are available online at https://www.powristockmod.com/downloads/get.aspx?i=809944.
The full yearly increasing point fund for the POWRi Super Stocks can be found at https://www.powristockmod.com/downloads/get.aspx?i=809963. Mandatory membership is required for all drivers in all divisions participating at POWRi Sanctioned tracks. A breakdown of the POWRi Points System can be found online at https://www.powristockmod.com/downloads/get.aspx?i=809961.
LOC Fuel Advantage Program – "The Fueling Partner of POWRi StockMod" – If 55 Gallons of race fuel is purchased at participating LOC facilities, the customer receives one FREE pit pass to any POWRi StockMod event in 2023.
Luebbering Oil Company – "POWRi StockMod Presenting Sponsor" – A wholesale fuel distributor, servicing both commercial and residential customers locally and throughout the Midwest. From home heating oil to lubricating oils to industrial operations or repair shops, LOC will have any fuel needs covered | www.luebberingoilcompany.com.
Speedy B's Convenience – "POWRi StockMod Title Sponsor" – Offering a top-notch line of clean, fast, friendly, and local convenience stores in Speedy B's; with five locations including New Bloomfield, St Thomas, two facilities in Jefferson City and the Holts Summit location that supplies 110-grade fuel.
Superior Steering Wheels & Graphics – "The Official Steering Wheel of POWRi StockMod" – Family owned and operated, everything is made by hand and custom-built one at a time to ensure great quality with a concentration on amazing customer service and top-notch quality products whether it's a steering wheel, a decal, or a banner | www.superiorsteeringwheel.com.
Follow along for more information such as race recaps, updates, full results, and press releases online at the newly launched www.powristockmod.com, and on Facebook at POWRi StockMod.
Photo Credit: Joshua Allee Photography
Back to News